GUA SHA STONE - BIAN STONE
Regular price
€127,00
Sale price
€100,00
Unit price
per
Sale
Sold out
BIAN STONE for face and body: a 100% natural and purifying lifting which illuminates the skin. Your own spa at your fingertips.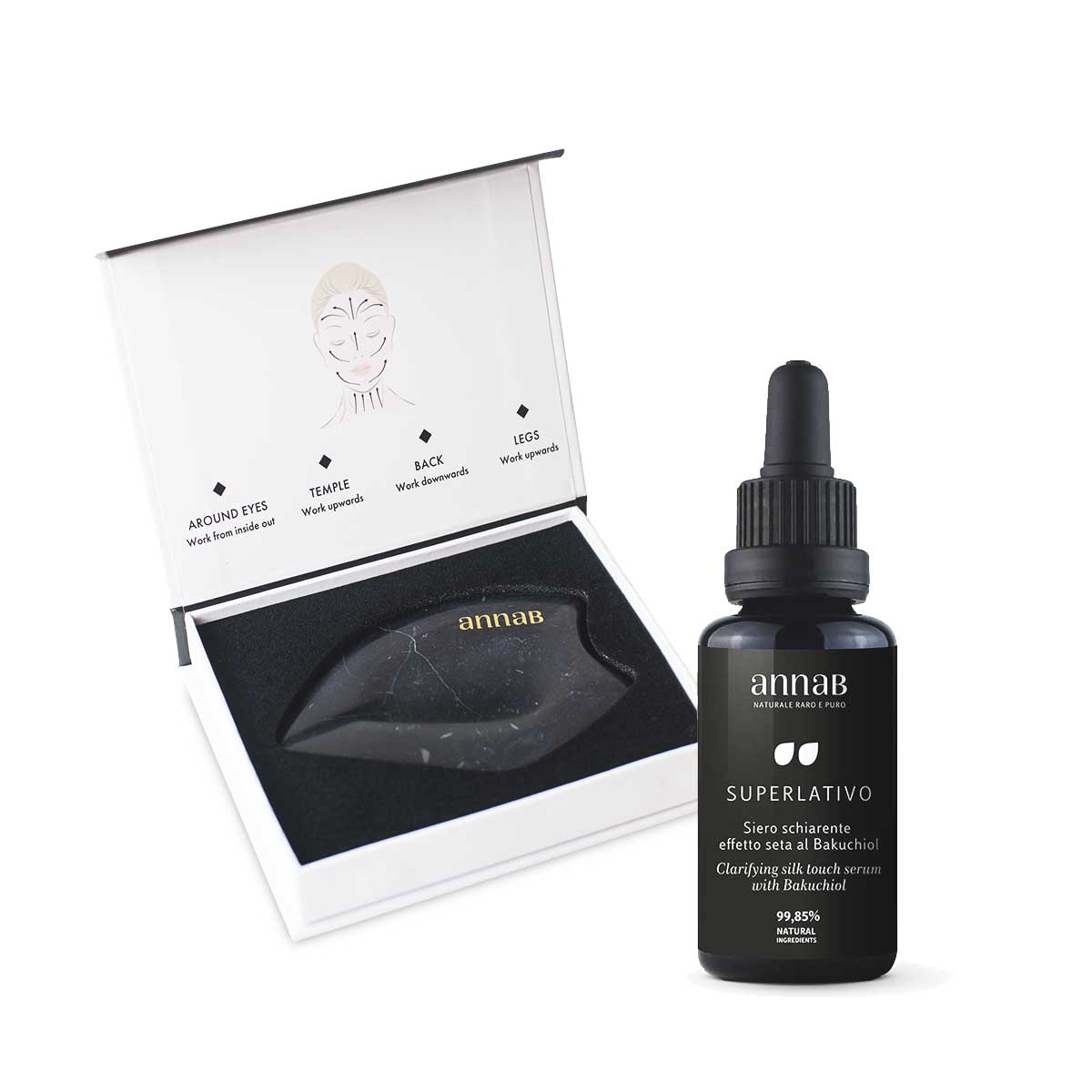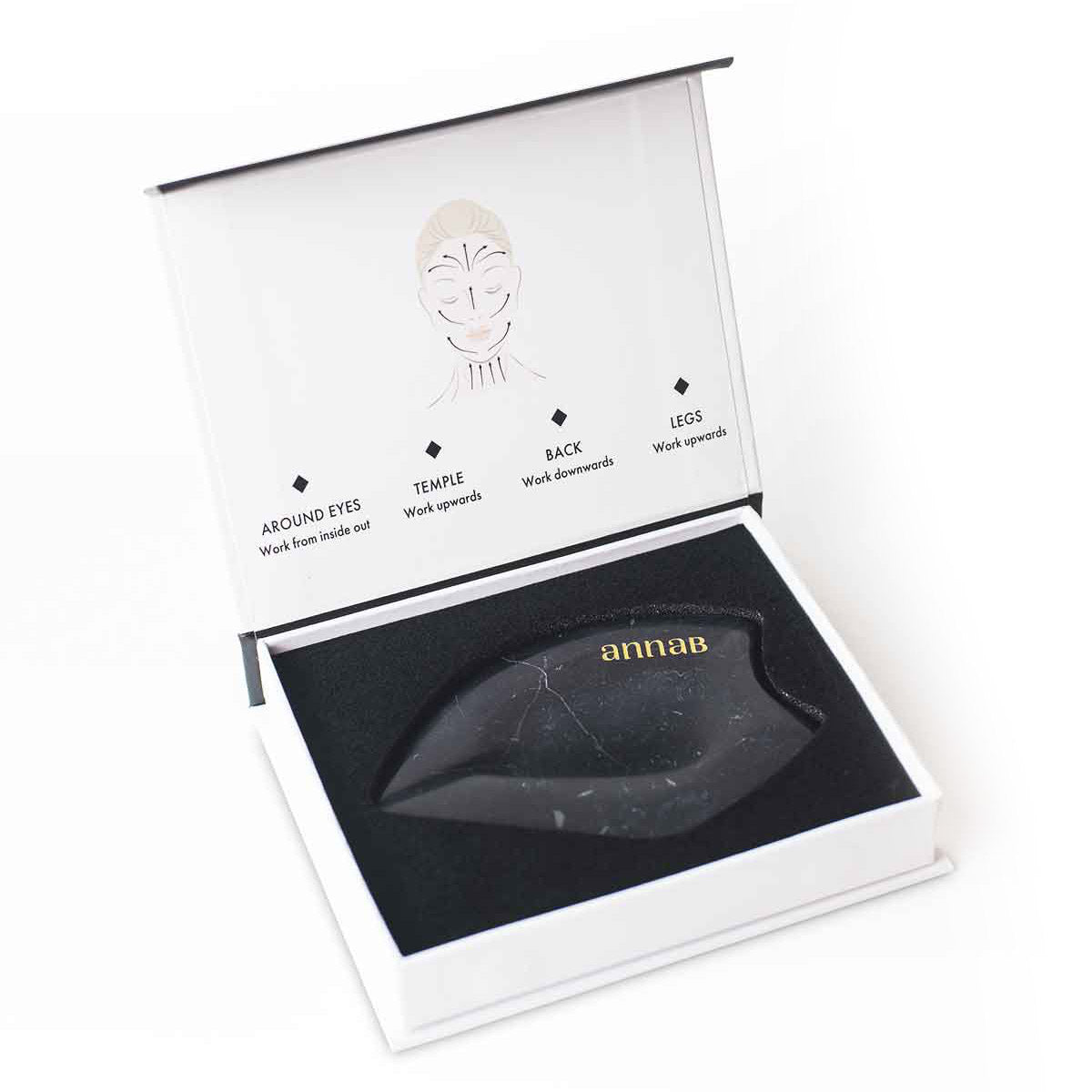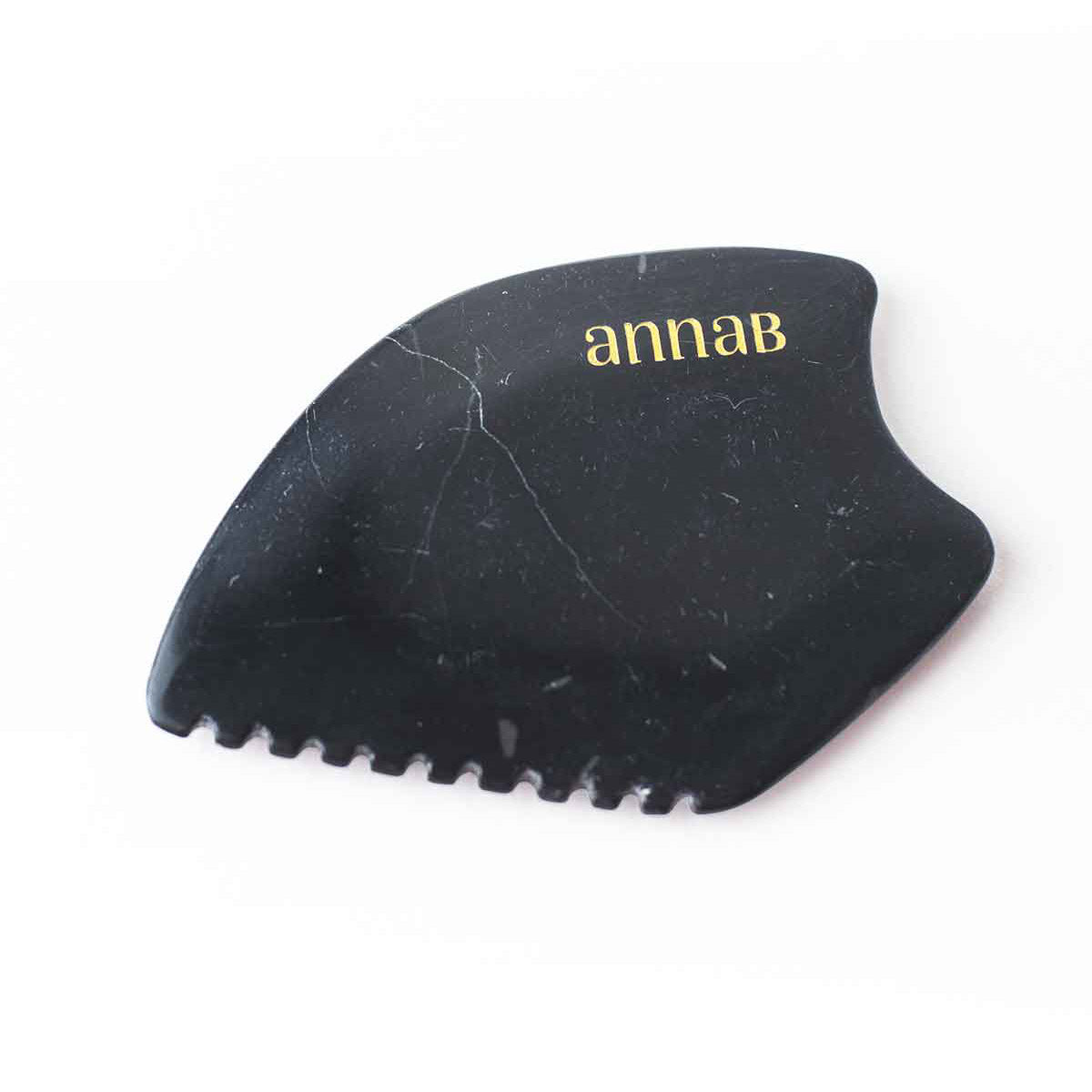 Details
Description

Gua Sha Nera - BIAN STONE
La BIAN STONE per viso e corpo: un lifting naturale al 100%, purificante è illuminante per la pelle. Una SPA a portata di mano.

Utilizzata nella medicina tradizionale cinese per il massaggio liftante e drenante da centinaia di anni, questa pietra caratterizzata da una serie di piccoli denti è ideale per stimolare la microcircolazione favorendo il drenaggio linfatico. La Bian STONE va a minimizzare i segni del tempo, come rughe borse e occhiaie, donando immediatamente un aspetto compatto e radioso.

Che cosa è la pietra Bian :
Una antica leggenda narra di un meteorite precipitato sulle montagne della Cina: nella collisione si sarebbe creata questa pietra magica e piena di proprietà guaritrici e rigeneranti. Per questa sua connessione con i meteoriti la pietra Bian secondo la tradizione emette raggi infrarossi, ioni negativi, noti per i loro effetti anti-age e antiossidanti.
Quello che ti posso garantire io e' la provenienza in purezza della pietra, e la sua efficacia che puoi constatare da sola, nell'utilizzo.
Ritual

Guarda il video su YouTube
https://www.youtube.com/watch?v=1EbjRP1aP6I

Segui i nostri video tutorial per usarla al meglio. E ti raccomando di provarla con i prodotti Annab
Perfetta con : Tonico Re di Fiori
Siero superlativo
Siero Energia Pura
Contorno occhi Eye me
(Da utilizzare ovviamente su pelle pulita, detergi con Clara bifase)
Ingrediants

La pietra verde di giada (avventurina) è una pietra di protezione, promuove la circolazione, aiuta a bilanciare corpo e mente. Questa pietra, in Tibet sacra e curativa, è ritenuta capace di conferire poteri superiori, creatività e conoscenza.
Sulla pelle rimuove le tossine accumulate, bilancia e rimodella i muscoli del viso, migliora il QI (forza vitale).

SUPERLATIVO
Camelia, olio giapponese dal tocco vellutato
BAKUCHIOL, retinolo naturale
Vitamina C, anti-macchie per eccellenza, uniforma l'incarnato
Macadamia, olio leggero ma super nutriente e rigenerante
Vinaccioli, anti-radicali liberi
Olivello Spinoso, protegge dai raggi Uv, illumina e rende la pelle più sana
Amaranto, migliora l'elasticità
Bisabololo, lenisce e protegge le pelli delicate
Lavanda, riparatrice e purificante
Sandalo, soave e speziato, armonizzante e rigenerante
Tonka, euforizzante ed afrodisiaca, magica
Cedar wood, Ginepro della Virginia: caldo e rilassante, riequilibrante
Rose otto, l'olio essenziale più prezioso, avvolgente e anti age
INCH

SUPERLATIVO: Oil, Undecane, Tridecane, Coco-caprilate, Punica Granatum Seed Extract, Rosmarinus Officinalis Leaf Extract, Hippophae Rhamnoides Fruit Oil, Amaranthus Caudatus Seed Extract, Ethyl Linoleate, Ascorbyl Tetraisopalmitate, Bakuchiol, Bisabolol, Tocopherol, Lavandula Angustifolia Oil, Santalum Album Oil, Dipteryx Odorata Seed Extract, Cedrus Atlantica Wood Oil, Rosa Damascena Flower Oil, Litsea Cubeba Fruit Oil, Limonene, Linalool, Farnesol, Coumarin, Citral, Citronellol, Geraniol, Hexyl Cinnamal.

Beauty Experience
AnnaB will be your beauty experience, with results that will surprise you!