NERA PURA – PURIFYING FACE MASK
Regular price
€84,00
Sale price
€71,00
Unit price
per
Sale
Sold out
99.00% NATURAL INGREDIENTS With charcoal, green clay, white clay, pineapple powder, honey powder + hydrolates of witch hazel, neroli, papaya and cucumber. The two parts are activated by mixing them together, but you can also use them separately. The powder as a scrub, the liquid as a toner.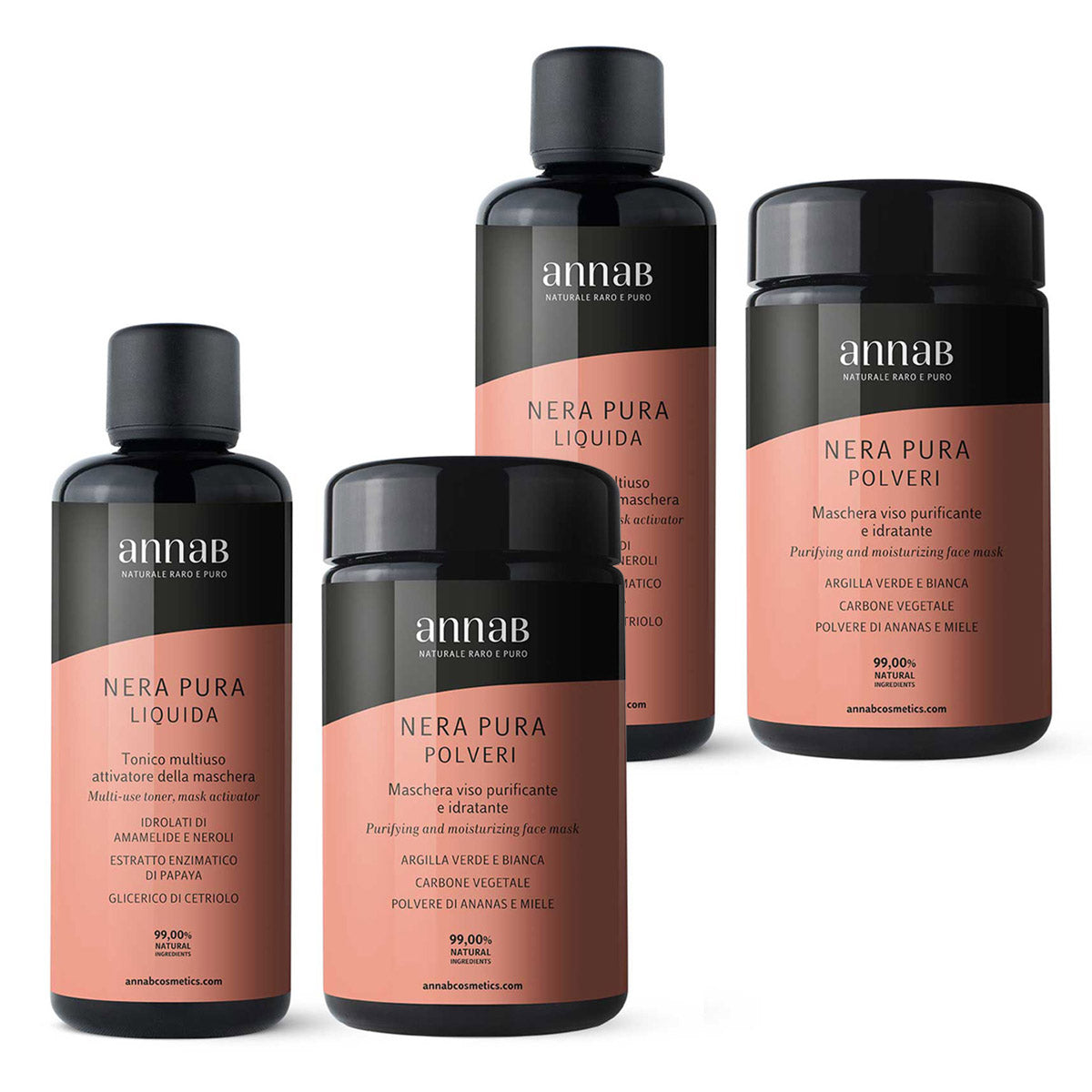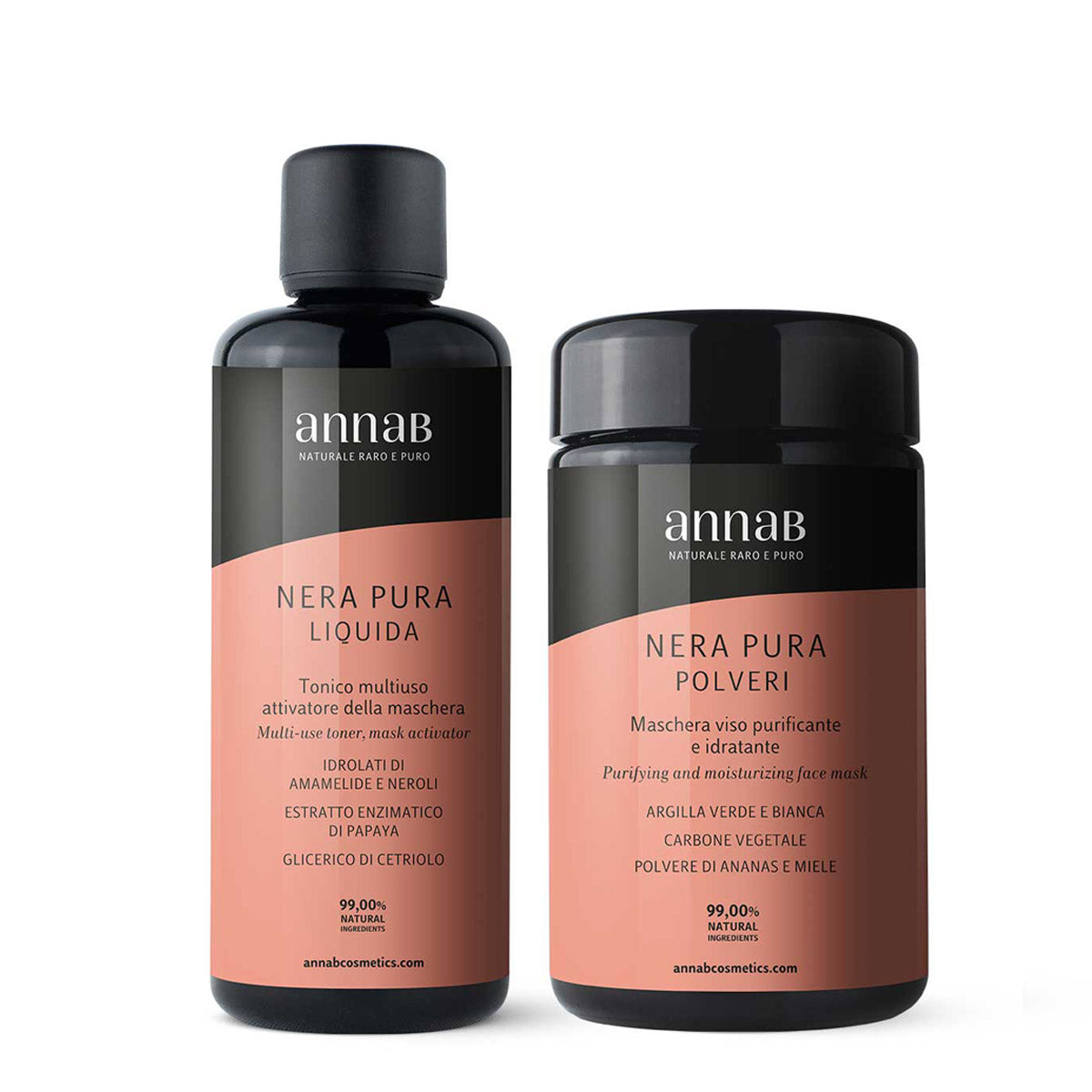 Details
Description

Maschera per il viso con immediata azione purificante, rigenerante ed illuminante. Ripristina l'equilibrio profondo della pelle e aiuta a dare sollievo anche a quelle più problematiche con acne, rosacea, psoriasi e qualsiasi manifestazione infiammatoria. Composta da due parti, una polverosa ed una liquida. Le due parti si attivano mescolandole, ma puoi anche usarle separatamente. La polvere come scrub, la liquida come tonico.
Ritual

SCIOGLI UN CUCCHIAIO DI POLVERI CON UN EGUALE QUANTITÀ DI LIQUIDI PER FORMARE UNA MOUSSE DENSA.
LASCIA AGIRE QUALCHE MINUTO PERCHE'GLI INGREDIENTI SI ATTIVINO.
POI STENDI LA MASCHERA SULLA PELLE PULITA E RILASSATI FINCHÈ NON SI ASCIUGA (10-15 MINUTI).
CON ACQUA TIEPIDA SCIACQUA CON UN MASSAGGIO DELICATO.

Consigli di AnnaB: se vuoi prolungare la durata della maschera spruzza qualche goccia di liquido per mantenerla attiva e aumentane l'effetto.
Puoi usare anche le polveri da sole, prelevando una piccola quantità tra le dita e passandole sul viso con un massaggio delicato che andrà a produrre un peeling delicato e renderà subito la tua pelle come "ricaricata".
Ingrediants

argilla bianca (KAOLINO)- ricca in silicio, dolce e ideale per pelli secche e delicate
argilla verde - assorbente e detossinante, purifica e decongestiona
carbone vegetale - purificante e detossinante in profondità.
polvere di ananas - calmante e purificante, esfoliante con effetto luminosità immediata
polvere di miele - booster d'idratazione, addolcente e anti-age
idrolato di amamelide - astringente e purificante
idrolato di neroli - tonificante e rigenerante
estratto di papaya - rinnovante e illuminante
estratto di cetriolo - purificante, illumina e migliora il collagene della pelle
INCH

Hamamelis virginiana water, Kaolin, Solum Fullonum, Citrus aurantium amara flower water, Charcoal Powder, Glycerin, Carica Papaya Fruit Extract, Cucumis sativus Fruit Extract, Mel Powder, Maltodextrin, Ananas Sativus Fruit Extract, Zea Mays Starch, Benzyl Alcohol, Dehydroacetic acid, Aqua. ATTENZIONE, CREA DIPENDENZA!

Beauty Experience
AnnaB will be your beauty experience, with results that will surprise you!