CONFORTA - MIX OF ESSENTIAL OILS BALANCE AND A GOOD MOOD
Regular price
Sale price
€15,00
Unit price
per
Sale
Sold out
This mix of essential oils was created to help you improve your mood. It is a genuine natural anti-depressant. Conforta is a mix of totally natural essential oils which will help you find balance and emotional stability, strengthen, and stimulate your senses, and it is also an aphrodisiac. Its effect will surprise you: you will see an improvement in your mood, a relaxing, beneficial, and profound effect, and a general long-lasting sense of wellbeing. You can use Conforta to provide a pleasing aroma for your close environment, for a massage or for a bath. It contains essential oils of orange, ylang ylang, patchouli, incense.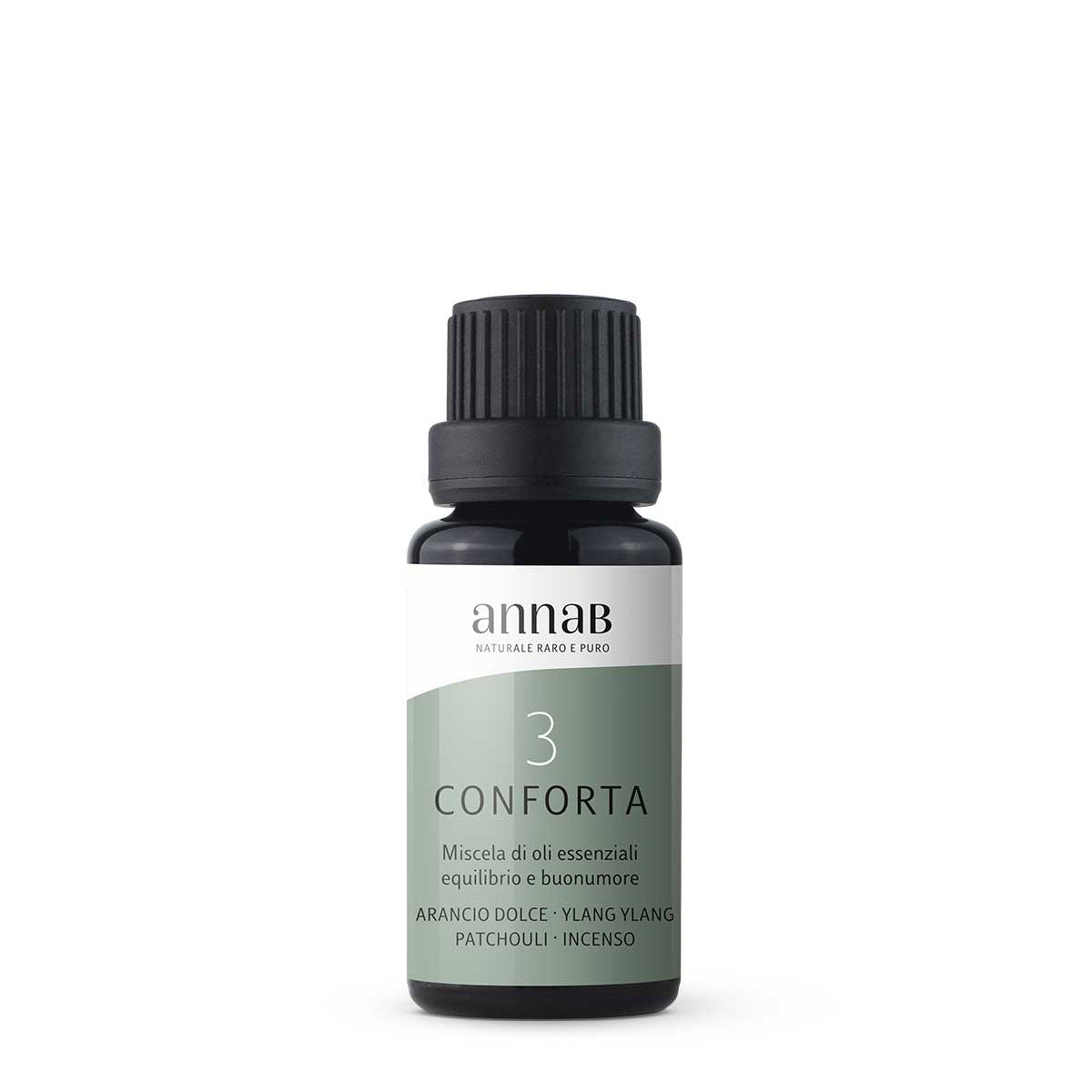 Details
Description

Questa miscela di oli essenziali è nata per aiutarti a pompare l'umore. È un vero e proprio antidepressivo naturale. Conforta è una miscela di oli essenziali totalmente naturali che ti aiuterà a trovare equilibrio e stabilità emotiva, rafforzare e stimolare i sensi, ed è anche afrodisiaco. Il suo effetto ti sorprenderà: noterai il miglioramento del tuo umore, un effetto rilassante benefico e profondo e un generale benessere duraturo. Puoi usare Conforta per profumare il tuo ambiente, per il massaggio o per il bagno. Contiene oli essenziali di Arancio, Ylang Ylang, Patchouli, Incenso.
Ritual


• sui polsi: 2/3 gocce, sfregali tra loro e inspira profondamente per godere appieno dei benefici degli oli essenziali.

• piante dei piedi: 5/7 gocce sulle mani, inspira profonda mente e massaggia con cura le piante dei piedi (dove si trovano le terminazioni nervose di tutti i nostri organi, pertanto massaggiare questa parte del nostro corpo porta benefici in tutto l'organismo).

• sul plesso solare: 2/4 gocce sulle mani, inspira profondamente e applica per un delicato massaggio benefico. Adatto anche ai bambini.

• nel bagno caldo: 10/15 gocce, se puoi, accompagna con i sali di Epson o del Mar Morto per un effetto potenziato.

• nel bruciatore (meglio se a candela) per l'aromaterapia: metti 20 gocce in un poco d'acqua, per diffondere nell'aria del tuo ambiente i benefeci dei potenti oli essenziali e condividerli con gli altri.
Ingrediants

• Olio essenziale Arancio: antisettico, calmante e sedativo, stimola la creatività e la comunicazione, e concilia il sonno.

• Olio essenziale di Ylang Ylang: equilibrante nervoso, calma le angosce e dona un sentimento di calma interiore. È afrodisiaco e risveglia la sensualità.

• Olio essenziale di Patchouli: antidepressivo e antistress, armonizza le emozioni, risveglia fantasia e sensualità, aiuta a equilibrare il Primo Chakra (chakra della Radice).

• Olio essenziale di Incenso: allenta le angosce, stimola le difese immunitarie, ha un'azione espettorante e antimucolitica. Calma lo spirito e aumenta l'energia positiva.

• Olio di Vinaccioli, antiossidante
INCH

Vitis Vinifera seed oil, Citrus Sinensis peel oil (dulcis), Cananga Odorata Flower oil, Pogostemon Cablin oil, Boswellia Carterii oil.

Beauty Experience
AnnaB will be your beauty experience, with results that will surprise you!