CURA – THERAPEUTIC MIX OF ESSENTIAL OILS
Regular price
€15,00
Sale price
€15,00
Unit price
per
Sale
Sold out
At the first signs of a cold, a blocked nose, and an inflamed throat, and on your first cough, use Cura, a mix of therapeutic essential oils chosen for their anti-bacterial and anti-viral effect, which are also useful in clearing the airways. AnnaB has created this mix of totally natural ingredients in very high concentrations, to help you block the onset of flu and its degeneration into a more serious problem. You can use the mix to purify the air in your house, for a massage or in a hot bath. It contains essential oils of palo santo, ho wood, mountain pine from the Dolomites, and thyme.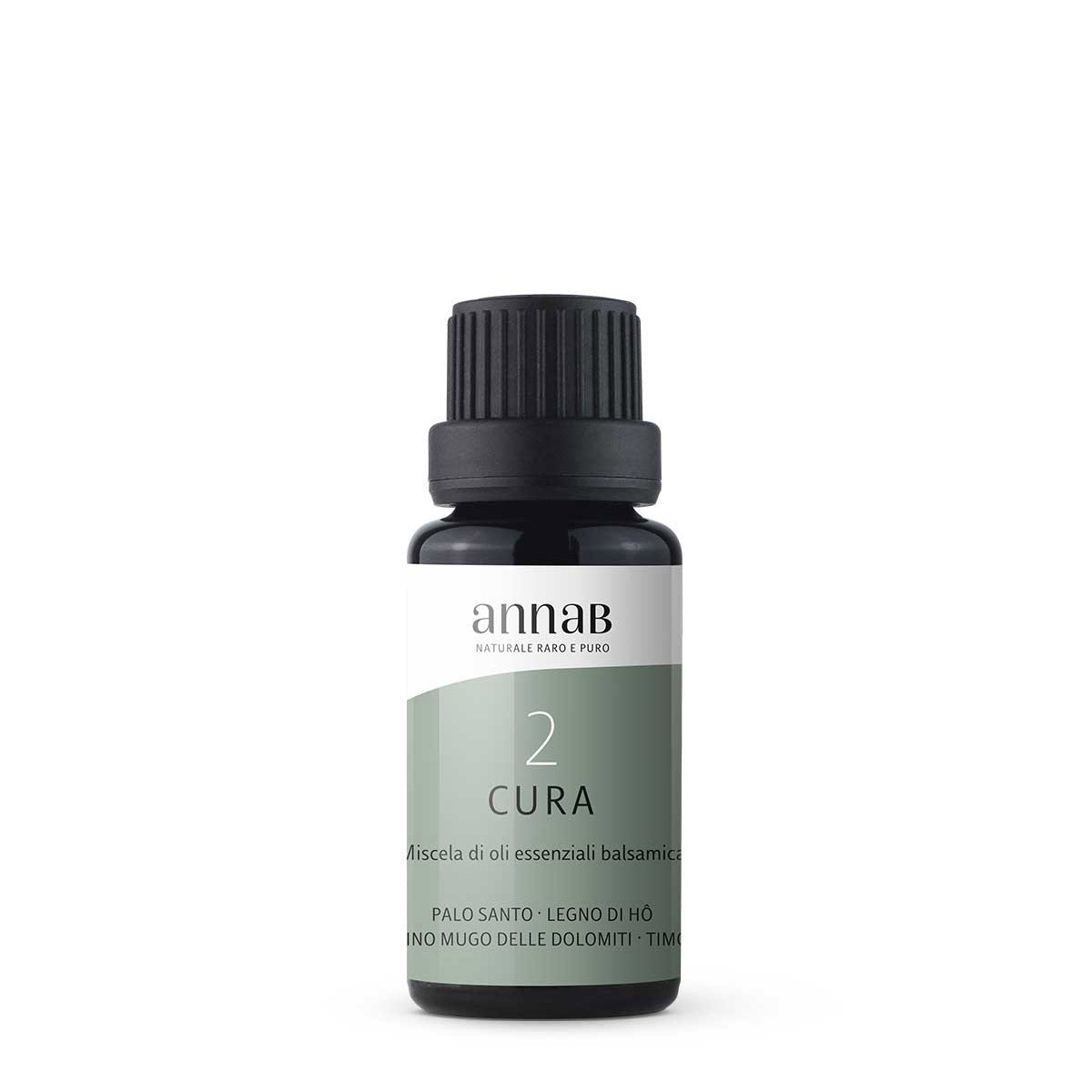 Details
Description

Ai primi sintomi di raffreddamento, costipazione di naso e bruciore di gola, e alla prima tosse, utilizza Cura, un mix di oli essenziali terapeutici selezionati per la loro capacità antibatterica e antivirale, efficaci anche nel sostegno delle vie respiratorie.


Annab ha creato questo mix di ingredienti totalmente naturali presenti in altissima concentrazione, per aiutarti a bloccare l'avanzare dell'influenza e la sua degenerazione in un disturbo più serio.
Puoi usare il mix per purificare l'aria in casa, per il massaggio o nel bagno caldo. Contiene oli essenziali di Palo Santo, legno di Ho, Pino Mugo delle Dolomiti e Timo.

Gli oli essenziali sono gli "antibiotici" della natura. Sono potentissimi e vengono utilizzati da secoli (i primi furono forse gli scienziati Persiani, ne parla a lungo Avicenna nel suo "Canone della Medicina" del 1025).
Ad oggi ci sono ancora pochi studi, ma la loro efficacia è ben nota al mondo scientifico, che sta cercando di colmare queste lacune di conoscenza e sperimentazione.
La mia raccomandazione: usateli con cautela, non improvvisate cure "fai da te", seguite le direttive. E loro, gli oli essenziali, vi sapranno restituire.

15 ml
Ritual

sui polsi: metti 2/3 gocce, sfrega i polsi tra loro e inspira profondamente per godere appieno dei benefici degli oli essenziali.
piante dei piedi: metti 5/7 gocce sulle mani, inspira profonda mente e massaggia con cura le piante dei piedi (dove si trovano le terminazioni nervose di tutti i nostri organi, pertanto massaggiare questa parte del nostro corpo porta benefici in tutto l'organismo).
sul petto: 2/4 gocce sulle mani, inspira profondamente e applica sul petto per un delicato massaggio benefico. Adatto anche ai bambini sopra i 6 anni.
nel bagno caldo: metti 10/15 gocce nell'acqua, se puoi accompagna con i sali di Epson o del Mar Morto per un effetto potenziato.
nel bruciatore (meglio se a candela) per l'aromaterapia: metti 20 gocce in un poco d'acqua, per diffondere nel tuo ambiente i benefeci dei potenti oli essenziali e condividerli con gli altri.
Ingrediants

Olio essenziale di Palo Santo: analgesico e antisettico, utile per i mal di testa, i dolori muscolari e articolari, anti-stress e anti-depressivo.

Olio essenziale di legno di Ho: antibatterico, antivirale, combatte le infezioni e stimola il sistema immunitario.
Olio essenziale di Pino Mugo (Bergila): rimedio efficacissimo per il sistema respiratorio, soprattutto in presenza di tosse e raffreddore. Questo olio è speciale, raccolto nella riserva naturale delle Dolomiti.

Olio essenziale di Timo: antibiotico naturale, espettorante, anticossico e antivirale. molto utile in caso di bronchiti e tosse.

Olio di Vinaccioli, antiossidante
INCH

Vitis Vinifera seed oil, Pinus Mugo Pumilio twing and leaf oil, Thymus vulgaris L. linaloliferum oil, Cinnamomum Camphora (ct Linalol) oil.

Beauty Experience
AnnaB will be your beauty experience, with results that will surprise you!