ENERGIA PURA
Regular price
€67,00
Sale price
€67,00
Unit price
per
Sale
Sold out
Antioxidant regenerative serum with vit. E, coenzyme Q10 99.85% natural ingredients Precious serum, a concentrate of exotic and super-active ingredients. It reawakens the vitality of the skin, with an anti-ageing, super-hydrating, illuminating, anti-smog, regenerative, anti-inflammatory action. Rich and luxurious texture suitable for demanding skin types.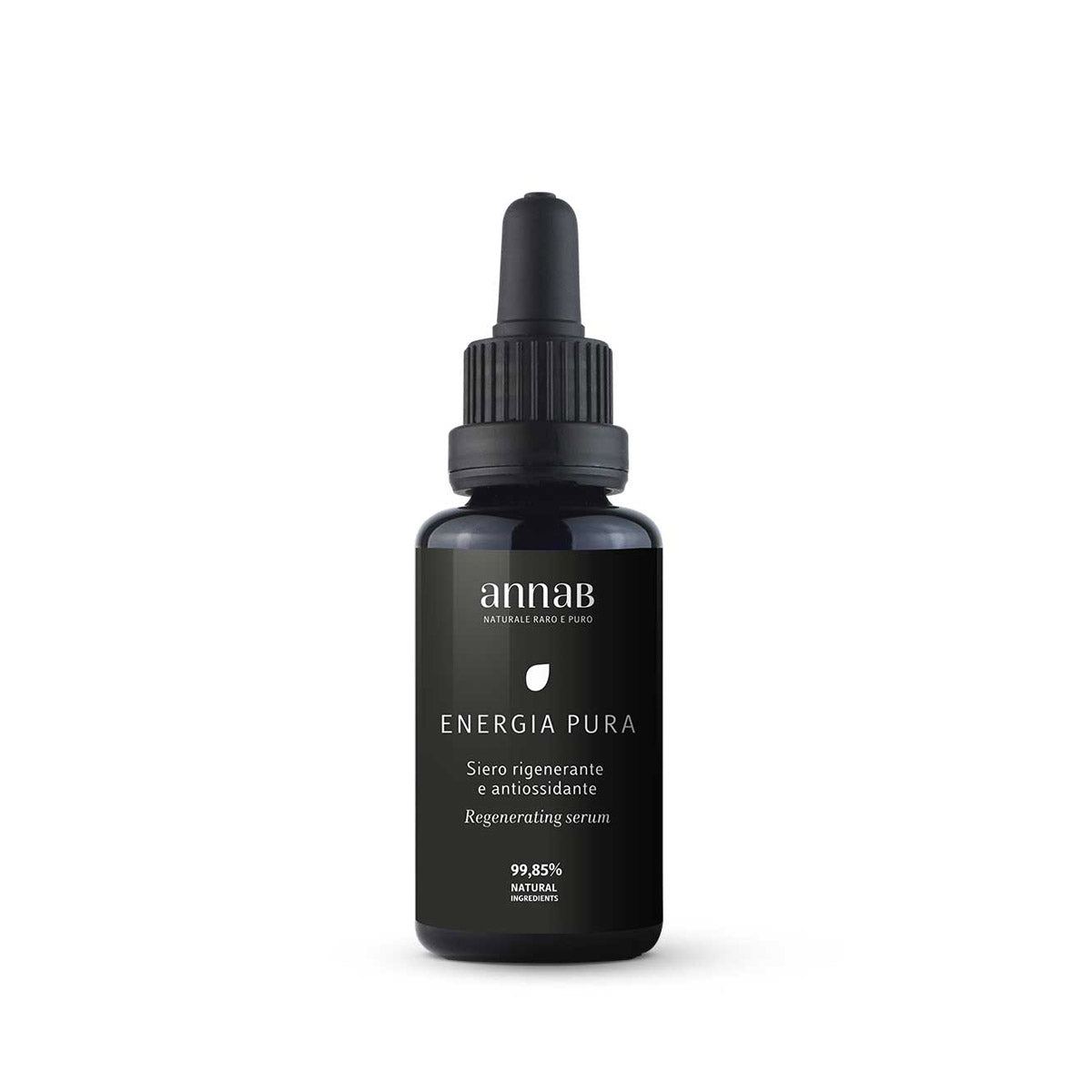 Details
Description

Siero rigenerante antiossidante alla Vitamina E, Coenzima Q10
99,85% ingredienti naturali

Siero pregiato, concentrato di ingredienti esotici e super-attivi. Risveglia la vitalità della pelle svolgendo un'azione anti-age, super idratante, illuminante, antismog, rigenerante, antinfiammatoria. Texture ricca e lussureggiante, adatta alle pelli bisognose.

30 ml/ 1 fl.oz
Ritual

Una pipetta di siero, o quanto basta per la necessità della tua pelle, ed esegui un massaggio avvolgente e amorevole. AnnaB consiglia di utilizzare questo siero la notte, per la sua potente azione rigenerante.
Ingrediants

vitamina E, antiossidante per eccellenza
estratto CBD, ottimo rigenerante cellulare
olio di UNGURAHUI, potentissimo frutto dellÁmazzonia in grado di curare cicatrici, ricostruire il tessuto epiteliale, ricco in Omega 9
olio Di Noci del Brasile, ricco in selenio e magnesio, e soprattutto in vitamine. Ottimo nutrimento per la pelle olio di Sacha Inci, ricca in Omega 3,6 e 9, perfetto per rigenerare la pelle, miracoloso su irritazioni e allergie coenzima Q10, antiossidante, protegge dai raggi UV, recupera energia e riduce l'invecchiamento cutaneo olio di Datteri del deserto, dal tocco setoso, revitalizzante, idratante, nutriente
estratto supercritico di Enotera, rigenerante, addolcente, idratante, adatto alle pelli più sensibili Baobab, anti infiammatorio e rigenerativo, eccellente per pelli mature
Jojoba, affine alla pelle, tocco leggero e delicato
Rosa Canina, illuminante e lenitiva

Squalano vegetale, ristruttura la barriera lipidica e protegge la pelle
INCH

Simmondsia Chinensis Seed Oil, Plukenetia Volubilis Seed Oil, Bertholletia Excelsa Seed Oil, Adansonia Digitata Seed Oil, Balanites roxburghii Seed Oil, Oenocarpus Bataua fruit oil, Squalane*, Tocopheryl Acetate, Oenothera Biennis Flower Extract, Cannabis Sativa Seed Oil**, Ubiquinone, Rosmarinus Officinalis Leaf Extract, Tocopherol *vegetable

Beauty Experience
AnnaB will be your beauty experience, with results that will surprise you!