PROTEGGI - MIX OF ESSENTIAL OILS WITH A PROTECTIVE EFFECT
Regular price
€15,00
Sale price
€15,00
Unit price
per
Sale
Sold out
Proteggi is a special mix of completely natural essential oils created by AnnaB to offer you an effective and totally natural protective effect against attack from viruses, bacteria. It can also help you with allergies. Thanks to the powerful anti-bacterial and anti-viral function of the ingredients which are present in very high percentages, Proteggi is a product which can block the cellular uncoating of viruses. Use it in the air in your environment, for a massage or in a hot bath. It contains the most effective anti-viral and anti-bacterial essential oils: tea tree, camphor tree, eucalyptus, cinnamon.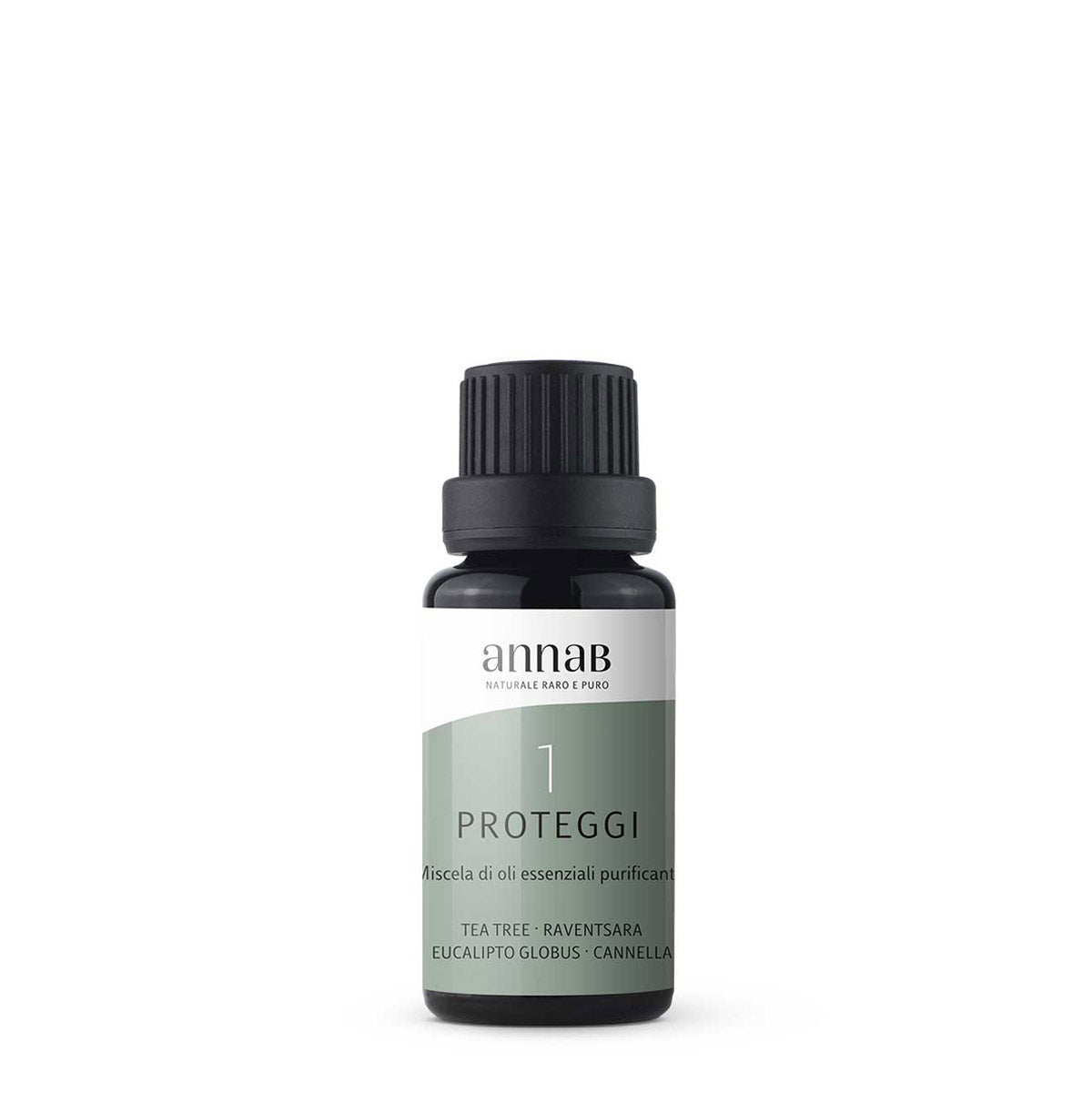 Details
Ritual

sui polsi: metti 2/3 gocce, sfregali i polsi tra loro e inspira profondamente per godere appieno dei benefici degli oli essenziali
piante dei piedi: metti 5/7 gocce sulle mani, inspira profondamente e massaggia con cura le piante dei piedi (dove si trovano le terminazioni nervose di tutti i nostri organi, pertanto massaggiare questa parte del nostro corpo porta benefici in tutto l'organismo).
sul petto: metti 2/4 gocce sulle mani, inspira profondamente e applica sul petto per un delicato massaggio benefico. Adatto anche ai bambini.
nel bagno caldo: metti 10/15 gocce nell'acqua, se puoi accompagna con i sali di Epson o del Mar Morto per un effetto potenziato.
nel bruciatore (meglio se a candela) per l'aromaterapia: metti 20 gocce in un poco d'acqua per diffondere nel tuo ambiente i benefeci dei potenti oli essenziali e condividerli con gli altri.
Ingrediants

• Olio essenziale di Tea Tree: antivirale, antibatterico e antifungino potentissimo. Antisettico, molto utile anche nella sanificazione delle superfici.

• Olio essenziale di Ravintsara: antivirale ed espettorante, immunistimolante, libera le vie respiratorie e protegge dagli attacchi esterni di virus e batteri

• Olio essenziale di Eucalipto Globus: antibatterico, purificante e stimolante, attivo nel rafforzare le funzioni delle vie respiratorie e stimolare la capacità di assimilare l'ossigeno.

• Olio essenziale di Cannella: antimicrobico, antibatterico, antiparassitario, è anche un tonico e stimolante che riconforta lo spirito.

• Olio di Vinaccioli, antiossidante.
INCH

Vitis Vinifera seed oil, Melaleuca Alternifolia oil, Cinnamomum Camphora (ct Cineolo) oil, Eucalyptus Globulus oil, Cinnamomum Zeylanicum oil.

Beauty Experience
AnnaB will be your beauty experience, with results that will surprise you!