RE DI FIORI MINI-SIZE – HYDRATING AND ILLUMINATING TONIC
Regular price
€25,00
Sale price
€25,00
Unit price
per
Sale
Sold out
96.14% NATURAL INGREDIENTS With ylang ylang, Damask rose, neroli and lavender. A precious and delicate lotion which illuminates, hydrates, soothes and refreshes facial skin after cleaning. It does not contain water, but only active ingredients.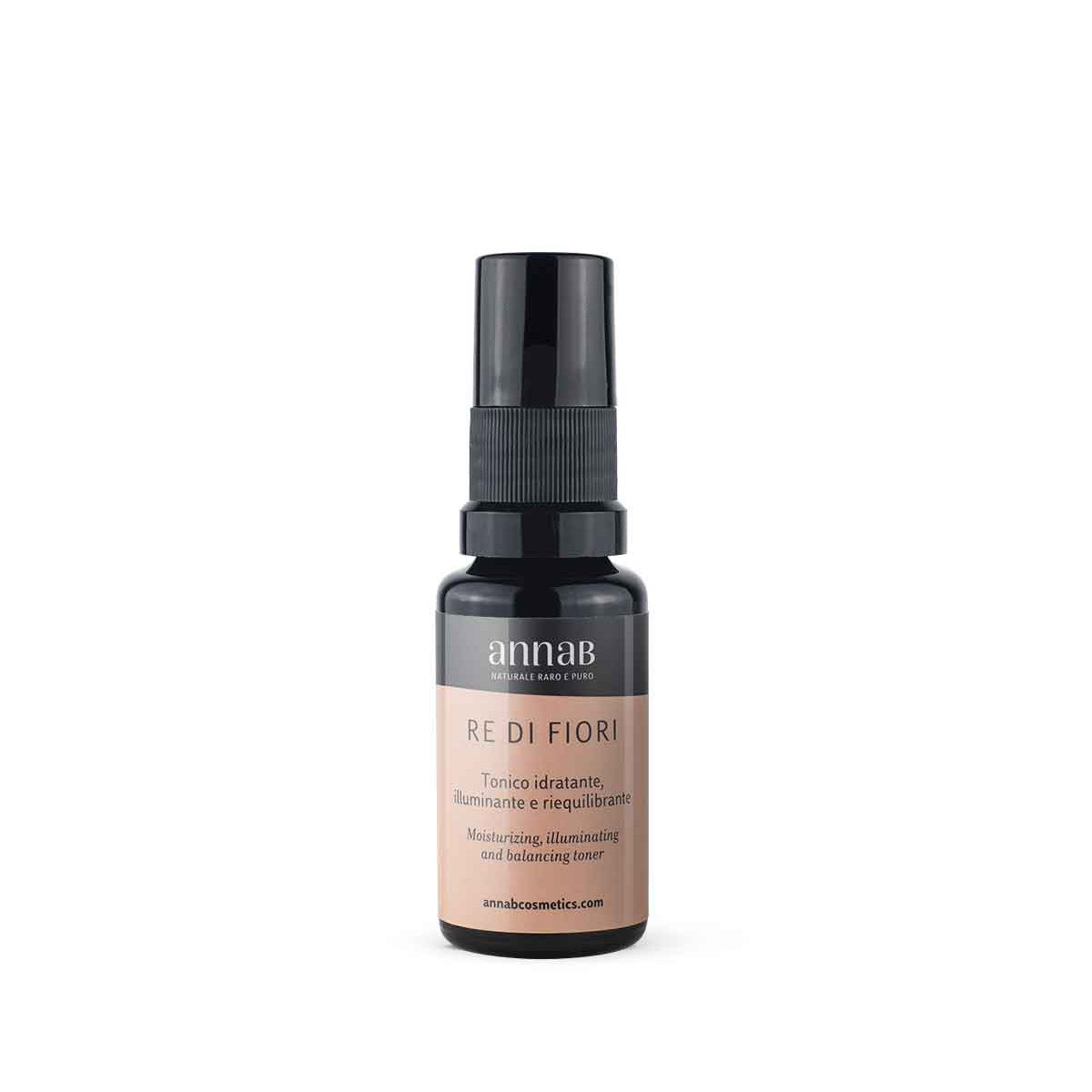 Details
Description

Il tonico Re di Fiori non può essere messo in secondo piano nella tua routine di bellezza quotidiana. E' un indispensabile step di idratazione e freschezza, aiuta a mantenere bilanciato il Ph della pelle, che si altera durante il giorno, e prepara il viso ad accogliere sieri e creme, che avranno così un effetto potenziato.
Il delicato e inconfondibile profumo di Ylang Ylang, detto il re dei fiori, che dà a questo tonico il nome, ha un effetto astringente e purificante, oltre che illuminante. E contribuisce a ristabilire l'equilibrio emotivo.
Gli idrolati preziosi di Rosa Damascena, Neroli e Lavanda lasciano la pelle fresca e setosa.
E gli attivi agiscono in sinergia per illuminare il volto, uniformare l'incarnato e proteggere dai raggi Uv nocivi: la microalga azzurra ha un comprovato effetto di diminuzione dell'iperpigmentazione cutanea (macchie della pelle).
Ritual

Spruzza da una distanza di due palmi dal viso, anche sopra il makeup. Con i polpastrelli pratica un massaggio risvegliante sul viso, utile all'assorbimento degli attivi de Re di Fiori
Adatto anche sui capelli, come idratante e protettivo da smog e attacchi esterni.
Superdelicato, Re di Fiori è un tonico totalmente privo di alcool
Ingrediants

Papaya: rinnova la pelle attraverso un leggero effetto peeling enzimatico
Idrolato di Rosa damascena: lenitiva e antibatterica
Idrolato di Lavanda: calmante e idratante
Idrolato di Neroli: rigenerante, antinfiammatorio e perfetto per rossori e imperfezioni
Estratto supercritico di Melograno, antiossidante e anti age
Microalga bretone azzurra che agisce in sinergia con la Vitamina PP (Niacinamide) per illuminare il volto e rallentare i processi di invecchiamento
INCH

Rosa damascena flower water, lavandula angustifolia flower water, citrus aurantium amara flower water, glycerin, aqua, carica papaya fruit extract, punica granatum fruit extract, niacinamide, caprylyl/capryl glucoside, aqua, sodium cocoyl glutamate, glyceryl caprylate, citric acid, polyglyceryl-6 oleate, sodium surfactin, benzyl alcohol, dehydroacetic acid, maris aqua, phormidium persicinum extract, cananga odorata flower oil, **benzyl benzoate, **benzyl salicylate, **eugenol, **farnesol, **geraniol, **isoeugenol, **linalool. (da ingredienti naturali)
ATTENZIONE, CREA DIPENDENZA!

Beauty Experience
AnnaB will be your beauty experience, with results that will surprise you!